The History of our Las Vegas Nevada Landmark
The Historic Commercial Center District AKA Commercial Center opened in August of 1963 in Paradise Township as the first outdoor shopping center in Las Vegas. It quickly became Southern Nevada's Most Distinguished New Shopping Area. It is one of Las Vegas's most popular landmarks, and was nicknamed Las Vegas's New "Downtown" area, in the Heart of Las Vegas.
How it Began…
This page is dedicated to Bibliophiles (bookworms) and History buffs & Enthusiasts who love Las Vegas History. To All of our Founders and To our Amazing Current Family of Business Owners, and Freinds and Supporters of Commerical Center. We Love our Commercial Center, our story Then and Now, and We Love You…
We hope you enjoy learning or being reminded of this Las Vegas Landmark and hope you will want to read, see or hear the entire story in our New Documentary & Media Project release Date TBA in 2024. And we hope you will support us in our effort to tell our story through your generous contributions.
When you ask locals about Commercial Center, you will get a wide variety of stories. Many Locals Remember what they call its Heyday, or Back in the Day of the 60's, 70's, & 80's. Each Decade has brought new Challanges, & a reinvention for the time, while still staying true to its roots. These stories are Filled with Nostalgic Memories spanning 60 years for those still with us. Someone's First Rock Concert, Someone's First Job, Sightseeing of Celebrities like Elvis Presley, Frank Sinatra, The Rat Pack, Liberace and so many more. Ice Skating at the Ice Palace to Escape the Burning 100 Degree plus weather, or Later Rollerskating at when the Ice Palace became playland, Commercial Center a hub of life & community for the growing Las Vegas area. When out-of-town visitors come to Las Vegas, one of the Historic spots to see is the Commercial Center. Featuring a Variety of Architectual styles like its tenants, With its mostly unique Mid-Century Modern architecture of the 60's, The 70's Brutalists Style, Some Renovations of the Stucco Movement of the 90's, and One Modern Vernacular Style of the Early 2000's The W-mart. Exotic World Flavor Dining at Restaurant Row, show stopping Old Vegas Style entertainment, Variety of Art Galleries and Art Showings & Outdoor Mural Artwalk at FreeParkandArtLasVegas.com and Unique Shops & Boutiques by Las Vegas's small Business owners. Amazing Rock & Music Legend History soon to be featured in their Rockumentary Documentary Commercial Center Las Vegas-, the Center is quintessentially Las Vegas, Old Vegas, The way it used to be, and still is today.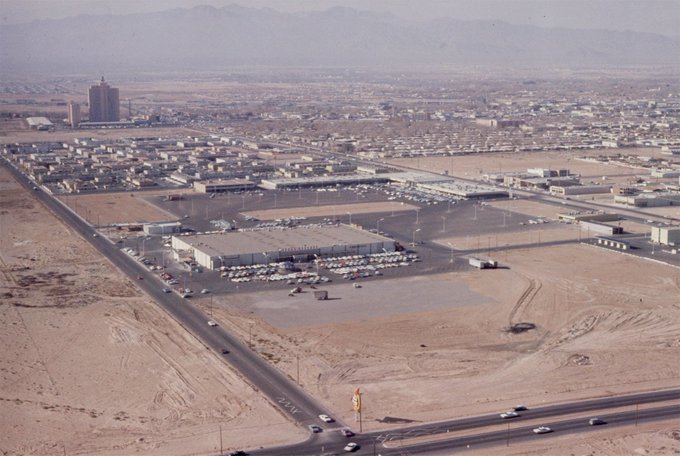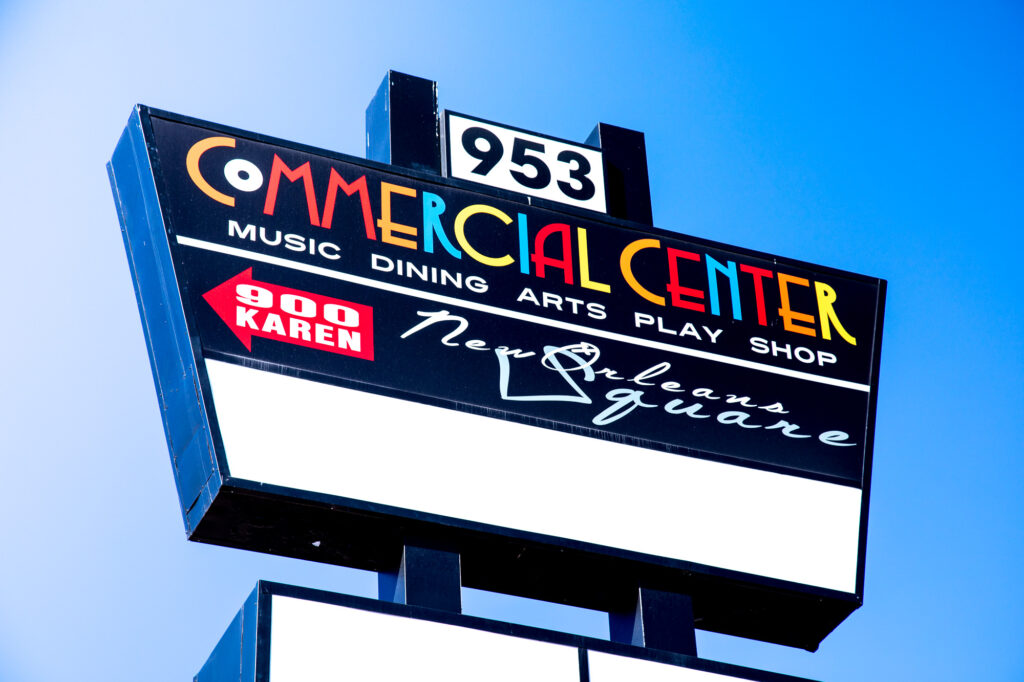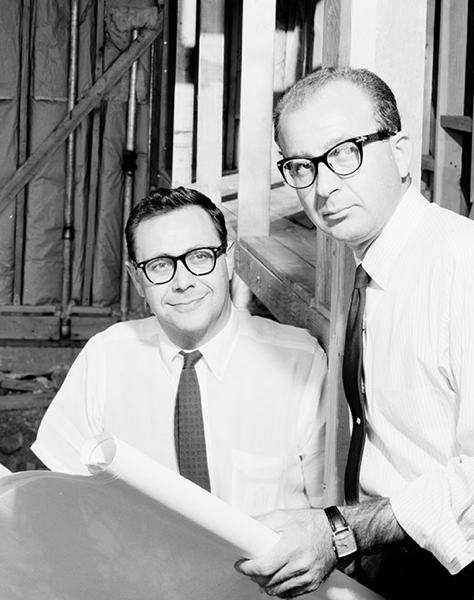 Early on
Built in 1963, the center has grown in value of over one-hundred million in Real-Estate alone. The Commercial Center opened to much fanfare as the very first premiere outdoor shopping center in Las Vegas. They chose the location right across the street from the Original Las Vegas Park speedway, a one-mile dirt track as an automobile and horse racing facility, that hosted the NASCAR grand national Series, AAA, and USAC stock car races from 1953-1955. It was to serve the Expansion of Las Vegas and the new & existing home communities and the soon to be built Las Vegas Country Club Estates and International Golf Course which opened in 1967 on the site of the Speedway. Already nearby were residents of the Palms Apartments that opened in 1962, 200 units with a Garden Style complex. Recently sold for 33 Million in 2022,and now being upgraded. Their Capex plan is bearing fruit, with Beautiful new Mid Century Modern Color schemes and gorgeous new Wood Faced patio Facades. Commercial Center Designers Paradise Homes & Architects Palmer & Krisel, commissioned by Jerome Mack, Thomas Perry, & Merv Adelson. Paradise Homes designed Commercial Center as a mega urban mercantile center and modeled much like the Country Club Plaza Kansas City 1922 By Jesse Clyde Nichols (1880-1950), and The Southdale Mall a leader in the Modern Indoor Mall in Edina, Minnesota which opened its doors in 1956, Just 6 years before Commercial Center was formed and 12 years before Boulevard Mall-Las Vegas first indoor Mall. Instead of following the Design concept of Victor Gruen of Southdale, Commercial Center Inc. wanted to Expand on the Highly Successful Fabulous Vegas Village Shopping Center that was the precursor to superstores that opened in 1955 an Indoor Super Shopping Center that had everything, locals share it was "the Walmart of its day" but before Walmart which Did not open until July 2, 1962, by Sam Walton. Walmart did not come to Las Vegas until 1989-34 years after Vegas Village was in institution in Las Vegas with three Locations, Including Las Vegas Boulevard, before being torn Down in to make way for the Showcase Mall December 15, 1996. Sam's Club did not open until 1987 in Oklahoma, and Costco did not open until 1983, although these are very different business models with Large warehouses' and bulk purchasing, shows a distinction in consumer shopping habits and a vast time difference of over 30 years in some instances. At The time Southdale's design was revolutionary for the scale. Much like Nichols which developed a 30-acre shopping center to serve the neighborhoods to the south of Kansas City. Adamant about the automobile, Nichols devoted 46 percent of his land to wide streets and parking lots. Prior to his vision of the Country Club Plaza, commercial buildings failed to add any type of parking for cars. His plan included no building over three stories high, harmony in design and color, wide streets, and parking lots. The project was financed by Cleveland's most esteemed businessmen of the late 19th century, including John D. Rockefeller, Steven V. Harkness, Louis Severance, Charles Brush and Marcus Hanna.
Commercial Center Took a Cue from the Past it was financed by the Movers and Shakers of Las Vegas, and the looked at what was working in development and also thought out of the box and included updates for the "Modern times". Commercial Center which spans 28 Acres, 18 Acres is for parking. Dedicating 64% for parking. Including the surrounding Lots with The Vegas Village Site we are looking at over 40 Acres. Originally planned for parking for 3,000 cars, now has over 1500 parking spaces. With Several Entrances and Wide Streets. Buildings were two Stories high with a main Highrise planned for the Center of the Plaza. Featuring Mid-Century Modern Architecture, such as the Folded Plate-V or W shaped roof at the Commercial Center Pavillion former Cue Club, and former site of First Bank of Nevada, and some of the Mono-Chromatic Features can still be seen at the Market Street B Building with some Stone/Brick Facia Design Elements. Commercial Center Inc. sold the land for the parking lot to the County in 1962 for $1.00 to develop a private/public partnership never been done before and never done again. The individual parcels were then sold to up and coming and prestigious local business owners. The 18 Acre parking lot was set up in perpetuity for the county to care for. Basically, a gift from Thomas Perry and Jerome Mack to spur on Business, as part of a Master Plan for Las Vegas. Now the parking lot alone worth several million and having collected over a hundred million in revenues over time for the County from local business activity. A great deal for the County then & now.
We owe a great deal to our Visionary founders, and co-founder Thomas E. Perry who passed away at 95 in 2016, and Jerry Mack who passed away in 1998. Perry was known as The "Quiet KingMaker" and was extremely active in the developing of Las Vegas as we know it today mostly from 1955 to 1990 he changed the face of Las Vegas, including the Creation of Commercial Center. Steve Wynn said Everything he built was because of Perry. Being a Visionary he broke from the banking norms in 1955 Loaning $750,000 to Milton Prell of the highly Successful Sahara Hotel Expansion, still standing today Opening on October 7, 1952 at the Cost of $5,00,000 only the 6th Hotel on the Strip, before it was Sahara it was Club Bingo Casino 1947 by Milton Prell, Del E. Web Contruction company built The Sahara. the Hotel 14-story Tower opened in 1960, and a 24 Story tower in 1963. They were a force to be reckoned with Perry & Jerry Mack, a Financier who co-founded The University of Las Vegas, everything they touched turned to Gold, including Commercial Center then and now.
This one-dollar gift has grown and matured over time. Thanks to the great foresight of our founders Commercial Center has stood the test of time, along with the surrounding residential and commercial area. All the original homes, apartments, Country Club estates and Golf course, still exist today in operation. The Sahara Corridor has gone through many changes, adding newer modern buildings, and other smaller complexes. Commercial Center has become everything and more it was hoped for. Our founders would be very proud of the Tenacity of the Small Business owners that continue to grow the vision. Most importantly it has been home to many Las Vegas small business owners and launched many a successful enterprise. There is some kind of Magic within the ground that nourishes and grows success. It is a breeding ground for entrepreneurship, with its fertile soil that spurs on creativity.
Its important to know where we come from. Commercial Center set the tone for all that was to come in Later years. The Center of life in Las Vegas off the strip. A place for locals to Live, Work, and Play. Standing the test of time for Las Vegas, 60 Years is easily equal to 120 or 200 years in other cities. Considering Las Vegas was founded in 1905. Only 118 years ago, from the beginning of Vegas Village in 1955. Commercial Center as a Las Vegas Institution turns 60 in 2023, But with Vegas Village the first kid on the block that started it all in the area. The Modern Commercial area 68 years old in 2023, and turns 70 in 2025. The Town was not incorporated until 1911 as Clark County. Just a dusty settlement at the time, When the railroad was linked from Los Angeles & Salt Lake, and fresh water was piped into the area for mostly the Farmers that came. Commercial Center represents the original Modernization of Las Vegas, while maintaining a true and real community. A stark contrast from Bog Box Stores and Corporate Chain Malls.
Set in the Backdrop of the 50's, with the Korean War from 1950-1953 America was involvement aimed at preventing the spread of Communism, there was a sentiment of uniformity, conformity, following group norms. Commercial Center was a break away from this is Commercial Development creating something New and Visionary giving way to the 60's with it revolutionary changes in Social Values and attitudes. Vegas Village opens when Las Vegas turned 50 in 1955. In 1950 With a population of Las Vegas of 24,624 & (Clark County, 48,289). Many Great Changes were happening, and substantial growth was taking place. To Accommodate this growth our founders Created Commercial Center, and the surrounding Residential Communities. A big change from Fremont Street that was not paved until 1925, and did not get its first street light until 1931. Before this time life was centered downtown, with the Original Subdivision of John S. Park 1931-1956, along with The Historic West Side, Beverly Green, & Huntridge. Las Vegas had outgrown the area, and needed something more. Main Street America will always have its place in every city. As can be seen with the Revitalization of the Downtown Area, with Fremont Street and surrounding neighborhoods. Fremont saw a decline over the years and had turned into a Bordello of run down motels riff with Drugs and Illegal Activity and homelessness, as happens with many original downtown areas throughout the country. From what was once the Center of life for Las Vegas locals, the Center grows. Something wonderful happened in 2013 when Tony Hsieh moved Zappos Downtown, and begin his quest. The Vision of Tony Hsieh A young Billionaire Entrepeneur single handedly transformed it into what it is today, along with the Support and Direction of the City of Las Vegas and the Carolyn Goodman, a thriving, exciting area that employs thousands, and serves millions yearly, in what will likely continue on to be a success for generations to come. He poured his love and passion into the Community. Thank You Tony. It takes Visionaries to create, maintain and revitalize communities.
In another quiet part of the City Commercial Center went through its struggle as Urban Sprawl took over Vegas, and the furthest reaches of the Valley were built out into the hills. But as it happens History repeats itself. The need for the young Las Vegas to have its history and sense of belonging and connection hit locals hard over the years, sending everyone into a tailspin to preserve the Historic Neighborhoods. This trend can be seen throughout the surrounding areas with many restoring homes to their original luster. Its important to know who your parents are. Where we come from. Commercial Center Thriving once again after surviving the Great Recession. To later surviving a world pandemic. Commercial Center was born in an exciting yet turbulent time in American History. That gave it Grit, Determination, and the Strength of Endurance. First the parent of Commercial Urban Development, Now The Grand-Parent of Las Vegas Community & Commercial Life, still the true Center of the City. A Thriving area teaming with life, Las Vegas Locals know it well, and are getting to know it well again. Before world war II ended in 1945 there were still many Multi-Generational Homes, but this way of life was in decline. The Nuclear family was a popular trend, maybe this was hand in hand with the Nuculer testing in Nevada started in 1951. Hmm? AS of 2023 one in five Americans now live with their parents, grand-parents, adult children, a vast change from Decades ago. Why is this? This new trend can be seen overflowing into the Commercial Districts. With Commercial Center living with its Children & Grand-children of Development close by. While standing strong, with experience, wisdom, love and as the backbone of support of the entire family tree. Unlike its human counterparts which pass away but are never forgotten, Our Structures and legacy stand the test of time.
When in 1955 Dr. Martin Luther King, Jr. leads the first major event of the U.S. civil rights movement, a bus boycott in Montgomery, Alabama World War II Allies sign treaty restoring Austria's independence, & Interstate Commerce Commission orders all U.S. interstate trains and buses to end segregation practices.
Minimum Wage was only $1.00 per hour. Vietnam 1954-1975. Commercial Center set to open August of 1963 on the heels of President Kennedy assassination a few months later On Friday, November 22, 1963, Commercial Center was underway. Civil rights protests continued through the south. These were difficult and changing time to navigate. In 2007-2009 The Global Financial Crisis hit, and Commercial Center lost 50% of it tenants and customers overnight. But unlike Large indoor malls and corporate owned plazas with Major Department stores that shuddered, Commercial Center held on because of the integrity, grit and planning done in the 1960's to be a lasting institution. With a group of tenacious forward thinking Entrepreneurs Commercial Center continued its beautification and neighborhood projects to keep the area up.
Under the Direction of then young beauty salon owner only 28 years old and founder of The Commercial Center Business Association Paula Sadler installed the first outdoor Murals by commissioning Artist Howard Freeman of Wal lustrations to bring Luster to the Baron Walls that held 44 years of Las Vegas life. In an effort much like Tony Hsieh of Downtown but several years before his arrival and in the vein of the Founders Thomas & Mack, Paula intuited what was needed through tapping into her Native American Cherokee Ancestry, maybe she was connecting to the Paiute Energy in the Land. The Seagulls of Commercial Center Inspired her, and she listened. It was as if the Land was speaking to her, she felt the call of Commercial Center, and the magic of the Center impelled her to care for it, love it and nurture it. When you come from greatness it is in your DNA always, and within the very ground and buildings there is greatness. There is an energy, there is a foundation of success. Paula sensed this and knew just what to do. Clean-up, Beautify, bring Art, network with others, revitalize, give hope, simply Love Commercial Center to Life! This can be seen today with The Rebranding of the "Commercial Center" as what it truly is now. The Historic Commercial Center District. Her work has spanned 19 years at Commercial Center with business association development in late 2005.
Looking back in time in the 60's, Though difficult times in the world business moved forward. Michael Tell Patty Dukes Husband and son of Jack Tell of the Las Vegas Israelite was a Visionary to Bring much needed relief to Las Vegas and give young people an outlet for Expression by Filling up the Commercial Center Ice Palace From the Beach Boys February 5th, 1968 to Santana September 18th, 1974. 26 Amazing Concerts are listed on www.setlist.fm. Over 26 Amazing Concerts took place over the years.
Today the Center still in operation. We were sad to lose the Historic Vegas Village Building with its Amazing Clocktower, to a Billionaire Developement Corporation that had plans to build luxury high-rise condominiums. Developers have eyed Commercial Center for many years and the surrounding Areas for what they call redevelopment-which meant at the time Bulldozing everything from Joe Brown to Maryland Pkwy to make way for 4-luxury high-rise towers and corporate chain stores an Amalgam of The District at Green Valley Ranch and Town Square. Those are wonderful places, but they cannot or should not replace Important Las Vegas Historic Communities of which we have so few.
We almost lost our precious History in 2009 under the direction of then head of Redevelopment Lesa Coder, and Commissioner Chris Giunchigliani There was an extensive plan to demolish Commercial Center and relocate all the businesses and residents. But to where? Then they would cherry pick which businesses would be able to re-open or do business in the new area. But who would come back after the trials of moving, most likely many would have gone out of business permanently and lost their entire life and dreams.
The necessity was not to make way for a place like Town Square or Tivoli Village, but rather to appreciate the legacy and importance of our Las Vegas Commercial Center as an important part of the Landscape of our roots. What was needed was a little TLC, to feed and water this parched community. A fresh coat of paint here, removing a few weed there, a smile to share, a hand to shake, arms to hold to embrace and to be told by the Community, We still Love you! We are here for you. We thank you for giving us life! What can we do to help you and make life better? You are important!
So Paula Sadler made it her mission to change the public opinion on how we view the old and aged, in our community. To see the beauty in the silver gray hair, for each soft wrinkle the story of how it came to be. To appreciate the deep smile lines carved into the face of Commercial Center, that although Older, "mature we call it now" or senior still having an importance place in the community "Family". We are not shipping Commercial Center off to a home for the Aged, nor are our signs ready for the Neon graveyard. We have an ongoing legacy to share for Generations of Dreamers. Commercial Center is the Anchor of Las Vegas Life. Its roots deep. We should never judge a book by its cover. When we look to our Elders and the Elders in our own families or tribes, they are the keepers of wisdom, stories and life itself, we cannot live without them. Without Commercial Center Las Vegas would not know who they are.
Thank You for your Support of our Historic Commercial Center District through your ongoing patronage to our over 150 plus businesses and through our go-fund me donations. We have a new and exciting way to contribute to our Historic Preservation with pre-sales and donations towards our Rockumentary Dockumentary anticipated release 2024. A stunning 60 expose filled with Music, Art, Culture, History, The Family Business stories at the Heart of it all.
Pre-Sales now Available
Donations for the Project
Thank you for considering a donation for this project. We are accepting donations at any level. To help finance the completion of our Documentary, E-book, Coffee Table Book, & Music Album.
Also to continue on in our Historic Neighborhood Preservation and Beautification efforts.
Proposed Budget. We are seeking donations of time & talent from Local Musicians, Historians, Student Journalists, Archivists, Photo Journalists, Graphic Designers and Editors to assist in the completion of this Community effort.
We are expecting to pay for physical production of books in print, DVDs, CDs although these will be in small quantities as we are focusing on Downloads for E-book, Music, Audiobook, & Streaming or Download for the Documentary we want to make the project accessible for as many people as possible.
Music Studio & Album Production $10,000
DVD & Video Production $10,000
Coffee Table Hardcover Book production $10,000
Estimated Budget $30,000
Proposed Retail Pricing
DVD $19.99
Coffee Table Full Color Book $39.99
Music Album 60 years of Music Vol I. 10-12 songs $19.99 (CD) or $1.00 per song download $14 for whole album w/bonus content
Audiobook: $10-$20
Most of this project is being done by Volunteers for the benefit of The Families of The Historic Commercial Center Neighborhood