May 18th, 2022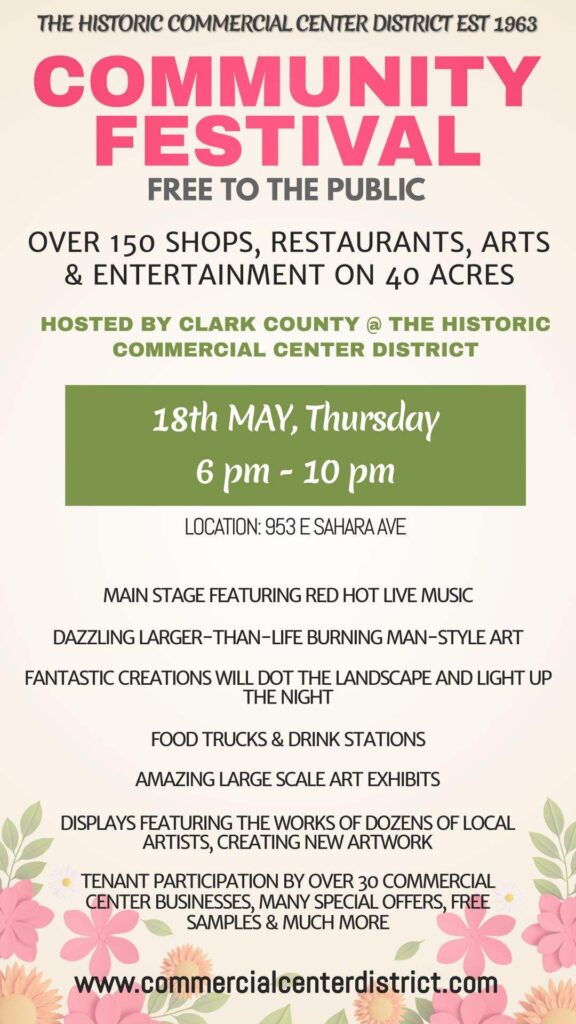 Thank You To Everyone Who Came out! We had a blast!
Thank You to our sponsor Clark County, Commissioners Tick Segerblom, &
Ross Miller. Thank You Tom Michele You are an Angel! Thank You to all the departments in the County, all our business owners, artists, and everyone who was positive and helped to make it a success! Thank You to the Amazing talent, Most of all Thank You to Our Local Las Vegas Community, our Customers-We Love you! Thank You God for making this passible!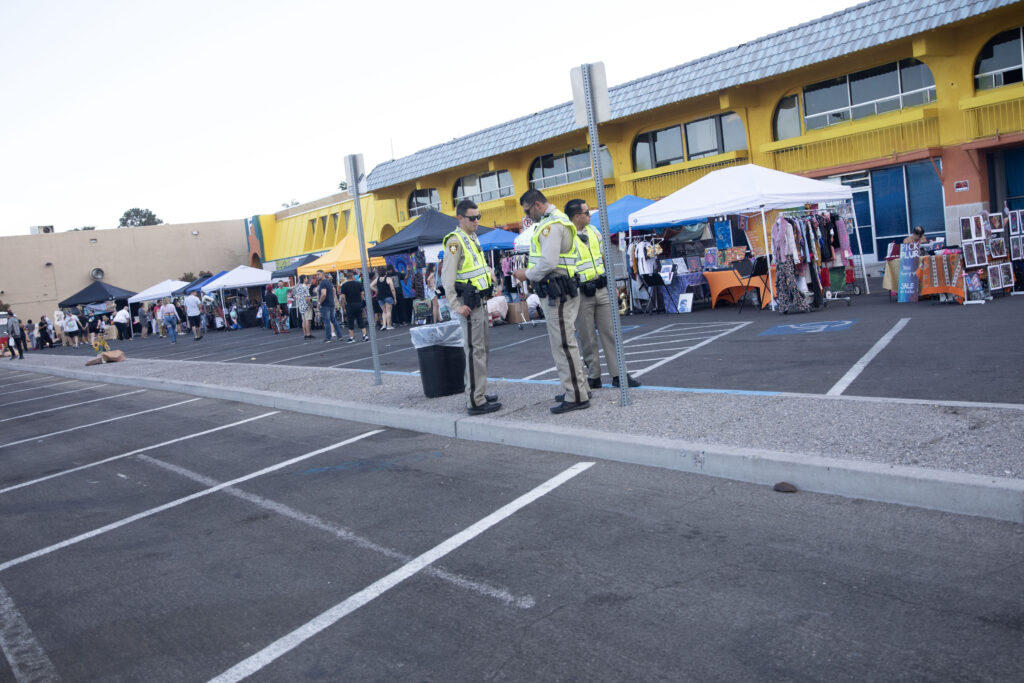 Community Festival
Free to The Public
Over 150 Shops, Restaurants, Arts & Entertainment on 40 Acres
Hosted by Clark County @ The Historic Commercial Center District
Thursday, May 18, 2023
6pm-10pm
Location: 953 E Sahara Ave
Main Stage featuring red hot live music.
Dazzling larger-than-life Burning Man-style art
fantastic creations will dot the landscape and light up the night
food trucks & drink stations
Amazing large scale art exhibits
displays featuring the works of dozens of local artists creating new artwork,
tenant participation by over 30 Commercial Center businesses, many special offers, free samples & much more.
For Immediate Release
5/5/2023
Media Relations Contact Paula Sadler 702-791-2368
Commercial Center Business Association
May 18th Clark County Community Celebration
At The Historic Commercial Center District
Las Vegas Community Festival & Liberace Avenue Commemoration
Clark County Honors The Commercial Center Neighborhood Family of Businesses by Celebrating with a festival recognizing its Legacy as the first Large Scale Open Air Center in Las Vegas in its 60th year of continuous operation A Historic Neighborhood Center-& Special Tribute to Liberace
The Historic Commercial Center District Respectively Commercial Center. Over the past years has continued a major cleanup & improvement project spearheaded by Paula Sadler President of Commercial Center Business Association and Owner of A Harmony Nail Spa. In The works has been an effort to create Largest off the strip free public Artwalk, & art sculpture garden in Las Vegas, and grow the area as a center of Music, Food, Arts & Entertainment, as a cultural area while honoring the Legacy of the past-this can be seen with the installation of Murals throughout the area.
JOIN THEM FOR THEIR FREE COMMUNITY FESTIVAL & OPEN HOUSE MAY 18, 2023, FROM 6PM-10PM CLARK COUNTY COMMEMERATION OF LIBERACE AVENUE, VIEW THE ICONIC AREA, AS A FESTIVAL GOER WITH MUSIC, SPECIAL LIGHTING EFFECTS, LIVE ART, SCULPTURES, LIBATIONS, FOOD AND AMAZING MUSIC
THE HISTORIC COMMERCIAL CENTER DISTRICT, LAS VEGAS NEVADA—MAY 18, 2023—CLARK COUNTY, CLARK COUNTY LAS VEGAS WILL HOST THE COMMUNITY FESTIVAL AT COMMERCIAL CENTER STARTING AT 6PM-10PM IN HONOR OF LIBERACE WITH KAREN AVENUE RENAMING AS LIBERACE AVE AND LIVE ART, A FREE ARTWALK, LIVE MUSIC, DELICIOUS FOODS, BUSINESS SHOWCASE SPECIALS FROM 6PM TO 10PM THORUGHOUT THE 40 ACRE PLAZA
The event will be free to the public & will not only honor the renaming of Karen Avenue (which runs adjacent to Commercial Center), to Liberace Avenue Karen Avenue which was named in Honor of Karen Mack, By Jerry Mack one of our Center's co-founders, this will be kick-off a major initiative to bring excitement and the arts back to an area that – for decades – was "the Center of Las Vegas".
A centerpiece of the vast County-owned parking area East Lot (from 6 PM to 10 PM) will be a rocking Main Stage featuring red hot live music. Dazzling larger-than-life Burning Man-style art cars, and fantastic creations will also dot the landscape and light up the night, along with food trucks and drink stations, other large scale art exhibits, displays featuring the works of dozens of local artists creating new artwork, and tenant participation by over 30 Commercial Center businesses, plus much more.
The Historic Commercial Center District Est. 1963 is proud to announce its New Upcoming Rockumentary-Documentary a special 60th Anniversary Diamond Commemorative Edition with companion E-book, Audiobook, & Soundtrack. A 60-year Expose telling the story of the Mom & Pops of Las Vegas, featuring Mob & Celebrity History, Rock legend History & beautiful Art & Music for Local Musicians and Artists, also the Unveiling of it new updated 2023 Website www.commercialcenterdistrict.com to Feature its over 150 Shops, Restaurants, Services & Entertainment.
New Ways to Donate to The Historic Preservation efforts through Go-fund me and a new online shopping cart. The Commercial Center Business Association & Commercial Center Historic Society in their 18th year of operation are excited to announce updated sites featuring their community works, business association website www.commercialcenterusa.com and the incredible accomplishment of starting the Commercial Center Public Mural Project in 2007, featuring Artist Howard Freeman of Wallustrations as the first Artist to bring Outdoor Murals to the Area, with updates through the years and in 2017 with the First Sidewalk Murals installed at the A Buildind by Vickie's Diner. Artists featured on www.freeparkandartlasvegas.com. Spurring on Projects such as Mural Fest at 900 Liberace Ave By the McMenemy Family at New Orleans Square in 2019 By Mural Mecca 501c3 www.muralmecca.com an independent non-profit separate from Commercial Center Business Association , another site that features the History of Village Square 1972 and the current collective of small business owners at www.villagesquarecommercialcenter.com
At The Event Special offers will be available from Neighborhood Businesses to all attendees, Raffles & prizes, Special One Night offers, and other offers.
Enjoy Libations & Celebrations continue through the Night at Commercial Center & New Orleans Square, Square Bar & Restaurant, Cue Club Bar, Spotlight Lounge Bar, Badlands Bar & Club (LGBTQIA+), La Vecindad Restaurant & Bar and many more.
Commercial Center wants the public to know of all of the Hard work and improvements that have been done as a community effort from 2004-current, there has been a massive effort to revitalize through painting, cleaning, art installation, security, improved lighting, exterior renovations, neighborhood watch, attracting many new businesses to open. Much Love has been poured into the Area. After the creation of the Business Association in 2005 and the past years of efforts, Commercial Center is Hardly Recognizable from past years, and has entered a new era, and is new again, and wants to show this off Las Vegas Style.
A Special Announcement will be made on 5/18/2023 for a special 60th anniversary festival with even more, fun, history, music, art, and vendors-in the coming months.
The Historic Commercial Center District invites you to see their new website and and like, follow, and share on their social pages. Newly updated facebook.com/commercialcenterdistrict showcasing the diversity of business and shopping, dining, and entertainment available. live video and photos of community cleanup, graffiti removal, restriping of the parking lot, prayers and meditations for healing.
Commercial Center Family of Businesses Thanks The Efforts of Clark County Commissioner District E Tick Segerblom, and The Clark County Board of Commissioners including Ross Miller Jr. and all of the County Departments in collaboration to make this festival possible and for their efforts to work with the Businesses to revitalize, and improve the SOSA area (south of Sahara avenue) as part of the Winchester Redevelopment. We support transparency, and positive collaborations that work for everyone and to have the minority voice heard, where everyone gets a seat at the table. Commercial Center supports Diversity, Equity, Historic Preservation, Music & The Arts, and assisting the Small Business Owner.
A Special Thanks to Tom Michel for his support, amazing insight, experience, Dedication, and Vision of the Future and for Making this Festival all it can be.
This Historic Center was opened in 1963, and has housed hundreds of Las Vegas's finest small business owners for over 60 years. Providing a safe haven away from controlling corporate chains and allowing the small mom & pops family businesses to thrive, create and flourish.
Paula Sadler and the Business & Property owners within are dedicated to preserving this historic area by creating community through the expansion of Art, Music, food & Entertainment . Several New Business and Restaurants recently opening or in the process of opening, Coops Caberet 7,100 sq ft, Artys Steakhouse 9,000 sq ft, Balkan Bar & Grill & Event Space 10,000 sq ft, Square Bar, Vickies Diner, Frama Studio & Martial Arts, Ghost Kid Comics, Lady Brandy's Place, Avant Pop Bookstore and many more will be showcased at the Festival, thank you to our friends in the media getting the word out.
___###___