New Historic Las Vegas Guided Tour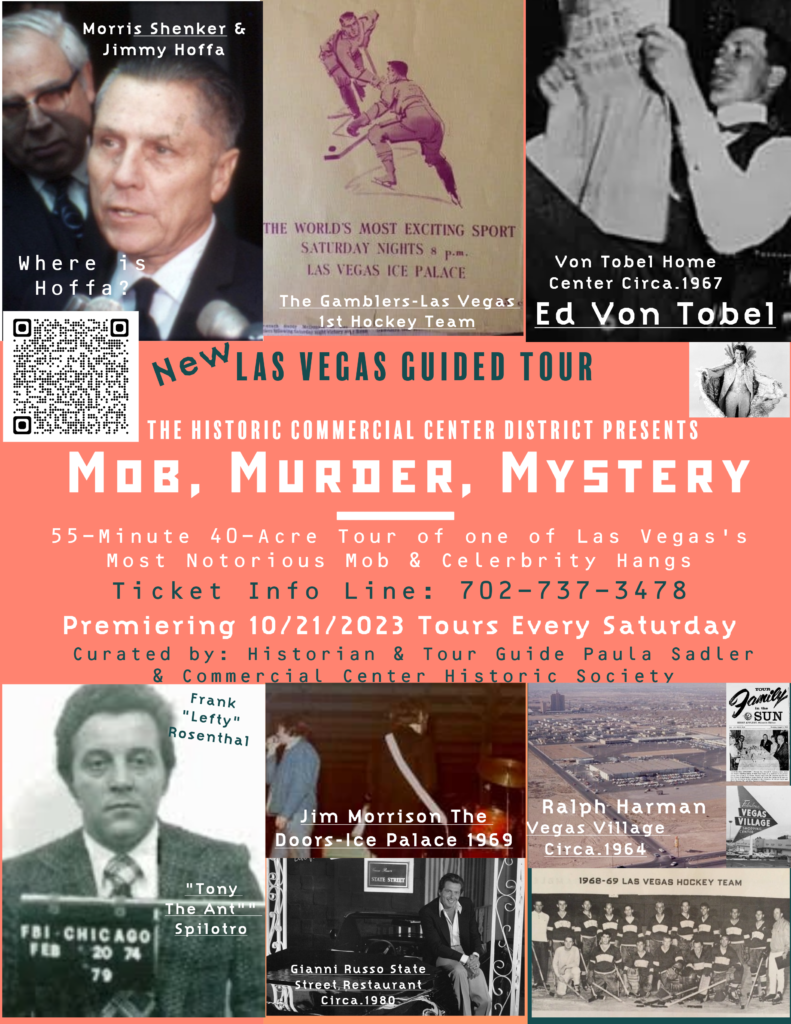 Premiere October 21, 2023-
Join us for an Exciting New Las Vegas Tour-for Tour Enthusiasts!
Take a trip down Memory Lane to Las Vegas's Largest & Most historic Business districts of 1963. This is a 55-minute walking tour through the Mid-Century landscape of this Historic District. You will learn the fascinating history of The Modernization of Las Vegas, as we highlight celebrity history from the Rat Pack to The Infamous Mob Ties including Jimmy Hoffa, The Teamsters, and Frank Lefty Rosenthal.
This Tour will feature our 60+ year history in Las Vegas as a Leader in Business & Commerce, and history repeats itself, looking to Town Square, which took a cue from our 1963 Design, but features corporate chain stores, as we are all Mom & Pops.
This tour has been Carefully curated By Author Paula Sadler-president of Commercial Center Historic Society. Over 19 years of research has gone into this tour to reveal little known facts and hidden gems not known to the public to highlight this Las Vegas Icon.
This is great for the whole family, or an intimate evening date with your main squeeze! Learn about the history of Las Vegas from the lens of Commercial Center founded by Jerome Mack, E. Perry Thomas and the first 200 business owners.
You will be whisked away with visual delights of Las Vegas Largest public Artwalk founded in 2007 by Curator Paula Sadler and founding artist Howard Freeman. new editions throughout the years and the first sidewalk Murals in 2017. New installations 10/21/2023. Take in the creativity of local artists while enjoying libations from The Heart of Las Vegas's mom and pops and finish the tour with flavors that will delight your tastebuds at an international level at our restaurant row History Buffs, bibliophiles, spectators, art enthusiasts, foodies,
Tickets available for Children, Adults, families and groups. Lunch and drink Options available
#commercialcentertour #bestlasvegastour #historiclasvegas #historictourslasvegas #mobtourlasvegas #midcenturytour #neworleansquare #morrisshenker #frankrosenthal #lucianofamily #giannirusso #pumpingiron #louferrigno #arnoldschwarzeneggar #vegasvillage #elvispresley #liberace #jimmorrison #thedoors #gratefuldead #rockmusichistory #lasvegasartwalk