Thank You George Eiferman
Eifermans Gym-A Commercial Center Las Vegas Classic
Bringing Body Building health & Fitness to Many Generations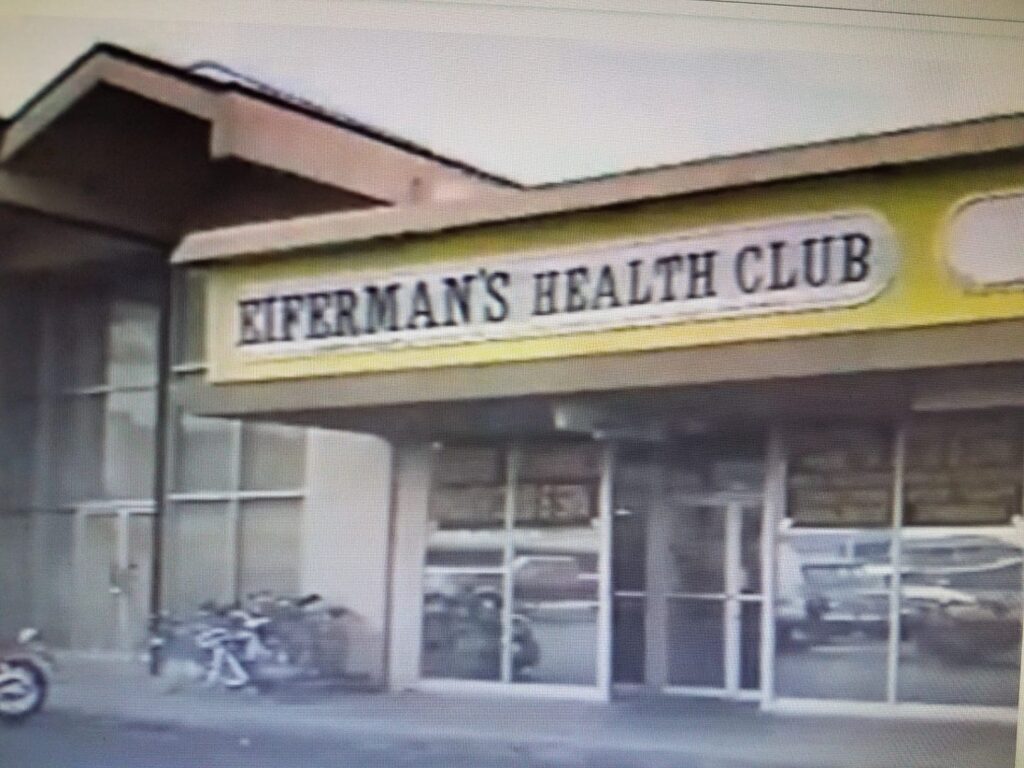 Las Vegas Sun Story
Former Mr. Universe Eiferman dies at 76
Thursday, Feb. 14, 2002 | 8:25 a.m.
For nearly 40 years George Eiferman proudly ran gyms, not health clubs.
The former Mr. America and Mr. Universe used to say a gym is where you go to work out and get in shape; a health club is where you go to get dates.
But he was more than just a gym owner and bodybuilder. Eiferman traveled the United States for a quarter-century, speaking to school assemblies, urging kids to exercise and eat healthy foods. He made movies and danced on the Las Vegas stage with the legendary Mae West, his one-time girlfriend.
George Eiferman, an internationally renown fitness guru who trained celebrities, bodybuilders and other athletes, died Tuesday at the Odyssey Health Care facility of heart failure and other complications related to a crippling stroke he suffered 3 1/2 years ago. He was 76.
Services for Eiferman, who also long offered his own line of natural health foods, vitamins, protein drinks and workout clothing, will be 9 a.m. Friday at Palm Mortuary-Eastern. Burial will be at the Veterans Memorial Cemetery in Boulder City.
"I'm reminded of the positive influence my father had on people every time I introduce myself and people smile and ask if I am George's son," said Las Vegas entertainer Shawn Eiferman. "People have always expressed a particular memory or told a warm story of my father's kindness and generosity.
"I am proud to say I am George Eiferman's son."
Longtime Las Vegas entertainment writer Sig Sakowicz had Eiferman on his local TV show "Sig's Superstar" several times in the 1970s and '80s and found him to be a down-to-earth man.
"He put on no airs," Sakowicz said. "George always thought of himself as a fitness guru, never the celebrity that he became. That opportunity, he said, came along, and he just took advantage of it."
Born Nov. 3, 1925, in Philadelphia, Eiferman joined the Navy during World War II and served on a minesweeper in the Philippines. After the war he started weightlifting and bodybuilding.
In 1948 he won the Mr. America title and in 1962 captured the Mr. Universe crown. In his prime, Eiferman — just 5 feet, 6 inches — weighed 220 pounds.
After winning the Mr. America crown, Eiferman went to Hollywood, where he initially performed in fight scenes in gladiator movies. In 1951 he landed a co-starring role in the low-budget drama "Devil's Sleep." Although it was a cinematic flop, the film's message about the dangers of drug use became one of Eiferman's most passionate causes.
Eiferman boasted that he never took steroids to enhance his physique.
Eiferman was one of the eight original muscle male dancers in West's show at the Sahara hotel's Congo Room.
Eiferman, then 29, and West, then 60, enjoyed a May-December romance. The show closed in 1959, and Eiferman later performed in a similar show with Debbie Reynolds for several years.
From the 1960s through the '80s he operated Eiferman's Gyms in Hawaii, Vista, Calif., and in Las Vegas. From the mid-1960s to the late 1970s the local gym was next to the Showboat hotel, now the Castaways. From the late 1970s to 1990 the gym was in the Commercial Center on East Sahara Avenue.
Scenes from the 1976 documentary "Pumping Iron," starring Arnold Schwarzenegger, were shot inside Eiferman's gym. Schwarzenegger, who had visited an ailing Eiferman several times in recent years, was informed of his friend's death Wednesday while touring Europe promoting his new film "Collateral Damage."
Eiferman was twice inducted into the Bodybuilding Hall of Fame — the first time for his contributions as an athlete, the second for being a longtime gym operator and health advocate.
Eiferman was married four times, twice to Tobi Kestenberg of Fort Worth, Texas. Bonita Eiferman, a local massage therapist, and Jerry Eiferman of Orange, Calif., also are ex-wives. After he suffered a stroke on a flight to Hawaii in 1998, Eiferman moved into Bonnie's home and she became his primary caregiver. She was at his bedside when he died.
In addition to his son, Eiferman is survived by a daughter, Leah Eiferman of Las Vegas; a sister, Elynore Himmelstein of Philadelphia; three grandsons, Vaughn, Alex and Ian Eiferman, all of Las Vegas; and one granddaughter, Danielle Eiferman of Las Vegas.
archive