Women who Shaped Las Vegas
"Behind Every Good Man is a Good Women."
At Commercial Center our Motto is Beside Every Good Man in a Good Women. The saying "Behind every good man is a good woman" is a proverb that acknowledges the support that women provide to men. The phrase is often used to value the importance of wives, girlfriends, mothers, and female colleagues alike. The saying was adopted as a slogan for the 1960/70s feminist movement, first having been used in the 1940s.
Commercial Center has been shaped not only by women behind the Scenes since 1963, to Women being front and Center of the Neighborhood Movement, as a Historic Neighborhood and Heart of Las Vegas!
The first printed citation I can find of 'Behind every great man there's a great woman' is from the Texas newspaper The Port Arthur News, from February 1946. This was headed – "Meryll Frost – 'Most courageous athlete of 1945′":
"As he received his trophy, the plucky quarterback unfolded the story of how he 'came back'. He said 'They say behind every great man there's a woman. While I'm not a great man, there's a great woman behind me.'"
The Woman of Las Vegas and Commercial Center usually do not have a front and center place in articles, but we know what it true. That the wives of our Founders played a great part in the development of our Historic Neighborhood. In that time
Although Much has Changed since the 1950's and 1960's.
Who was there to advise in those quiet moments, to bring tenderness, caring, nurturing, love and support. Who was there to guide the family, make all those meals and business luncheons, and dinners possible. Who made a beautiful home to have all those gatherings. It was the Women who were quietly there behind closed doors, building their husbands up to be the best men they could be.
Today things are much different starting in the 60's the revolution was on and women began to take a much more front and center role in family & business. This can be seen with a majority of our business owners over the past 20 years have been women. One of the biggest differences in the way Women do business is they run their businesses from an intuitive perspective and with more compassion.
During the 1950s, the stereotypical role of women in American society was to focus on family life. Marriage and children were considered essential, and women were expected to get married right out of high school or while in college. The media often portrayed women as homemakers, and if a woman wasn't engaged or married by her early twenties, she was at risk of being labeled an "old maid" . Women were expected to identify primarily as wives and mothers and to eschew work outside of the home. However, despite these expectations, women continued to make up a significant proportion of the postwar labor force . It's important to note that while traditional gender roles were socially enforced during this period, discontent with the status quo was emerging. The 1950s witnessed significant changes in patterns of sexual behavior, which would ultimately lead to the "sexual revolution" of the 1960s .
Joyce Rosenberg Mack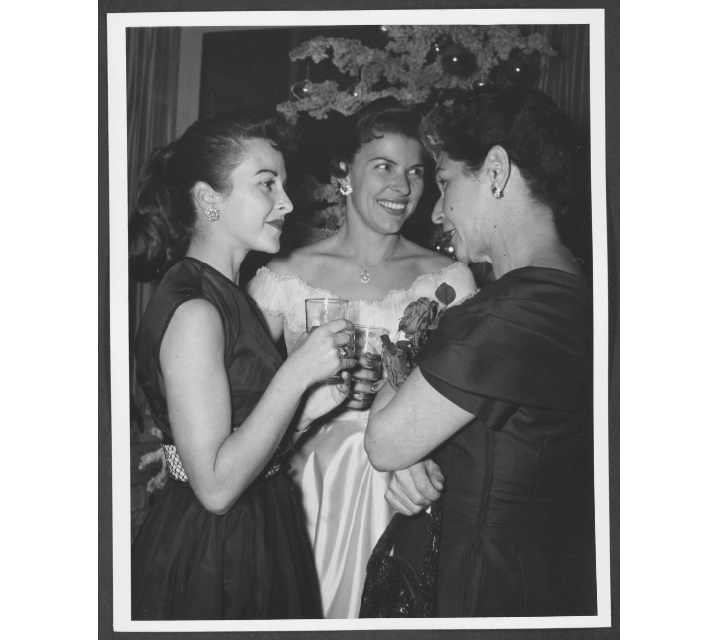 Joyce Mack is a community leader and philanthropist in Las Vegas, Nevada. She was born Joyce Rosenberg on August 17, 1925, in Los Angeles, California. She attended the University of California, Los Angeles, where she met her husband Jerome D. "Jerry" Mack. The couple married in 1946 and moved to Las Vegas in 1947. Joyce Mack has been involved with Temple Beth Sholom and Congregation Ner Tamid. She has also been a trustee on the UNLV Foundation Board and received the Silver State Award from the UNLV Alumni Association in recognition of her contributions to the university .
Mack married Joyce Rosenberg in 1946. They had met at UCLA. They had three daughters:
• Barbara Mack Feller Levine. She married Norman Levine.
• Karen Mack. She married Russell Goldsmith, the chairman and chief executive officer of City National Bank.
• Marilynn Mack.
UNLV's Boyd School of Law to honor Las Vegas pioneer, philanthropist Joyce Mack – Las Vegas Sun Newspaper
Peggy Chatterton Thomas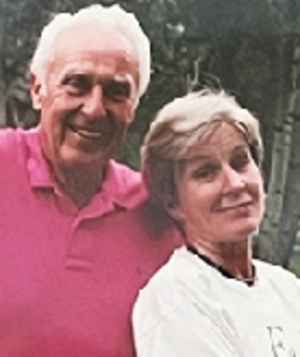 She was a founding member of the Junior League of Las Vegas, one of the founders of the Smith Center for The Performing Arts and a lifetime supporter of the academic programs at the University of Nevada Las Vegas. She was active in many local charities including the United Way, the Anti-Defamation League and Nevada Dance Theater.
Matriarch of Thomas family, pioneers of Vegas banking industry, dies at 97 – Las Vegas Sun Newspaper
Patricia Ann Frey
Patricia Ann Frey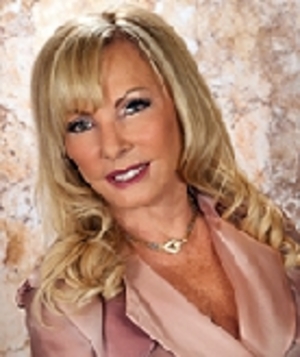 Patricia Ann Frey Obituary – Las Vegas, NV (dignitymemorial.com)
she was known as "hostess-extraordinaire," for her incredible parties she threw. She was the glue that kept everyone together and definitely knew how to have a good time. She was a true friend to those who had the privilege of knowing her and the best grandma to her three grandchildren. Her spirit and love are missed sorely, but her memory will never be forgotten.
Susan Frey Molasky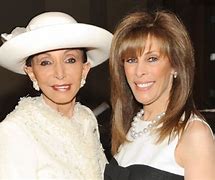 Susan Molasky is a fundraiser for Nathan Adelson Hospice and a prominent member of the Las Vegas Jewish community. Molasky, born Shoshana Borukh in Jerusalem on September 16, 1937, moved to London when she was nine. There she learned English and worked in a fabric store. She married her first husband in 1957 and moved to Las Vegas in 1958 to renovate and manage the Moulin Rouge hotel for her brother-in-law Leo Frey. Subsequently, Molasky and her husband moved around Europe for a few years and she gave birth to three sons. In 1964 the family settled in Las Vegas permanently, where Molasky served as president of the Temple Beth Sholom Sisterhood and met her second husband, Irwin Molasky, whom she married in 1973. Susan's own battle with cancer has inspired her dedication to Nathan Adelson Hospice, which was founded in 1978 by Irwin and his business partner Merv Adelson.
Source:
Molasky, Susan. Interview, 2014 March 11. OH-02140. Transcript. Oral History Research Center, Special Collections, University Libraries, University of Nevada, Las Vegas. Las Vegas, Nevada.
Ruth Coker & Leo Frey
Lillian Koplar Shenker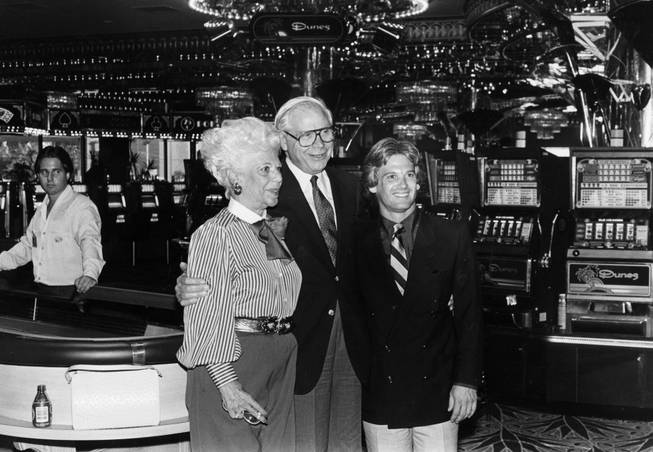 A funeral service for Lillian Koplar Shenker, a long-time area lawyer, civic leader and wife of nationally known lawyer Morris A. Shenker, will be at 2:30 p.m. Wednesday at Temple Israel, 10675 Ladue Road, Creve Coeur. Entombment will be in Mount Sinai Mausoleum.
Mrs. Shenker, 75, died Sunday of infirmities at Jewish Hospital. She lived in Town and Country. Her father was Sam Koplar, the founder of the Chase, the Park Plaza and Forest Park hotels. She graduated from Mary Institute and earned bachelor's and law degrees from Washington University. After getting her law degree in 1939, she married Morris Shenker, who became famous as a criminal lawyer, Democratic Party fund-raiser, philanthropist and casino owner.
Mrs. Shenker remained a partner in the law firm run by her husband until her death.
She also was active in managing the Shenkers' business holdings, including the Dunes Hotel and Casino in Las Vegas, Nev., a new casino in Atlantic City and the Murrieta Hot Springs, a resort and residential development near Los Angeles.
In 1949, Mrs. Shenker was appointed a provisional judge in the old St. Louis Police Court, only the second woman to hold that post.
In the 1940s and '50s, she was a member of the St. Louis Council on Human Relations, established to promote better race relations. She was chairman of the council in 1953. In 1965, Mrs. Shenker was appointed to the Missouri State Advisory Committee to the U.S. Commission on Civil Rights.
In 1955, she was elected president of the women's division of the Jewish Federation of St. Louis. She was also active in fund-raising activities for the Variety Club and in 1975 she was named the club's "Sweetheart of the Year." In 1979, Mrs. Shenker got the American Jewish Commission's National Humanitarian award.
Other organizations in which Mrs. Shenker was chairman or on the board include: the Citizens Advisory Commission of the St. Louis juvenile court; the Dismas-Clark Foundation, which her husband was instrumental in forming; the American-Israel Cultural Foundation; the League of Women Voters; and St. Vincent's Hospital Auxiliary.
–St. Louis Post-Dispatch; Jan. 31, 1989
Bertha Ragland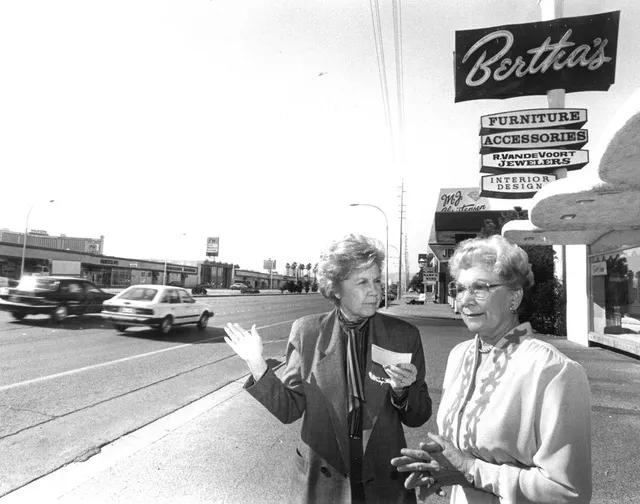 Bertha Ragland came to Las Vegas in 1943 against the advice of family and other friends and with just $60 to her name.
Bertha Ragland Obituary (2005) – Las Vegas, NV – Las Vegas Review-Journal (legacy.com)
Fifty years later, the home furnishings business she founded in downtown Las Vegas, Bertha's Gifts and Accessories for Gracious Living — later Bertha's Gifts and Home Furnishings — made her a millionaire several times over.
Current Women of Commercial Center Making Changes
Mara Lieberman of Violin Outlet
Paula Sadler of A Harmony Nail Spa
Vanessa Barreat of La Vecindad
Irena Damianova of Balkan Bar & Grill
Angela Ojiako of Nigerian Food Restaurant
Vickie Kelesis of Vickies Diner
Nancy Good of Core Contemporary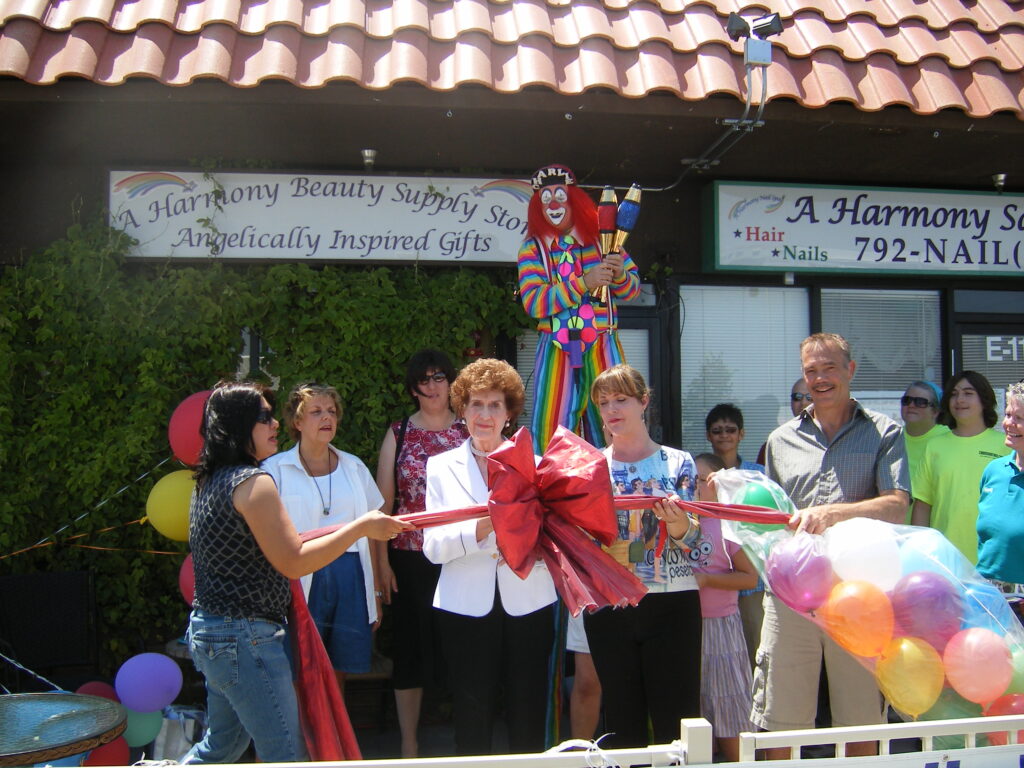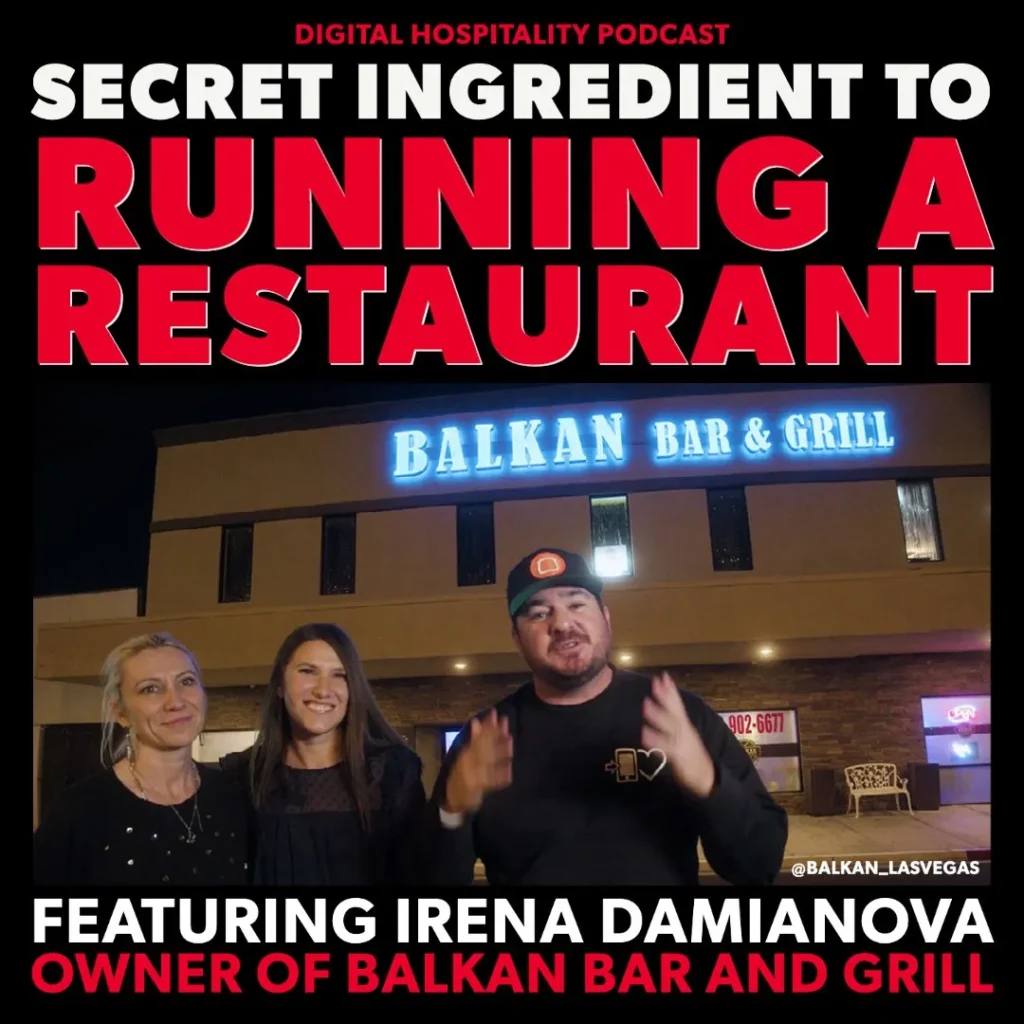 Podcast Interview with Irena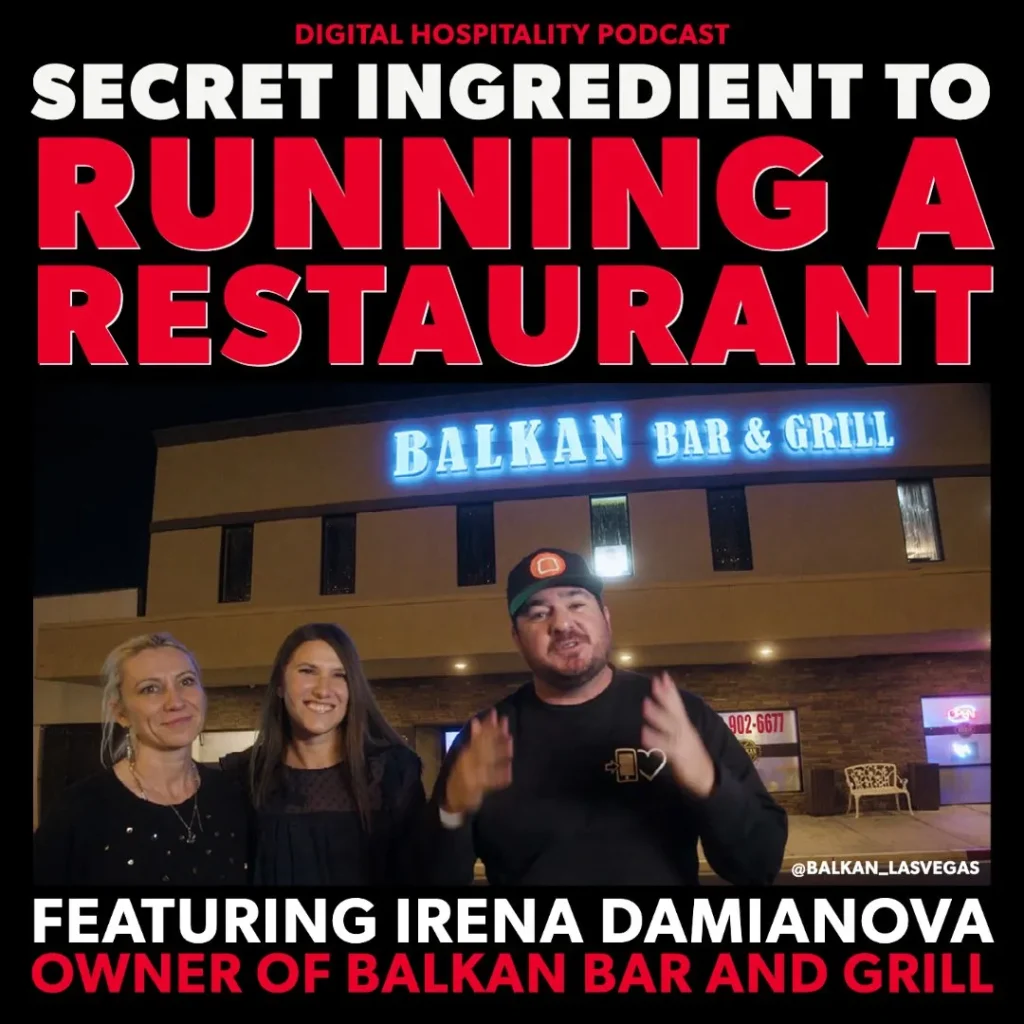 Experience The Commercial Center Vibe podcast-Coming Soon.