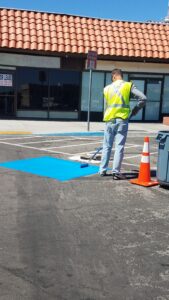 Neighborhood Preservation Effort
One Month Neighborhood Cleaning sponsoship
Thank You for your consideration to help us maintain the cleaning of our Historic Public Space and Maintenance for one Month. This will provide one month 5 days a week in person cleaning and Maintenance.
The Historic Commercial Center District is a Mix of Private/Public and Nonprofit Efforts. Buildings and Businesses are privately owned. The General Parking area and Sidewalks are an 18 Acre Public Space, Commercial Center Non-Profit Business Association helps to maintain the Public Areas. As with any streets and public Areas the County provides streetlights, and a once-a-week street cleaning. Due to the Scale of the Area comprising 4 inner blocks and 4 outer blocks, daily cleaning in person is needed. Because of the setup of the Area, buildings may have their own private security, but due to the vastness of the 18-acre 1500 space parking lot, security on foot is needed to patrol throughout the day to watch for loitering and general security needs. Metro provides some patrols but is not required of paid for 24-hour security. Neither do they provide these services. Because our general parking area is considered the same as a public right of way or street security by the County is not provided because they do not maintain a building like a library or other public space their, otherwise they may do so as needed.
Due to the growing number of Homeless in urban areas and the privacy our street set up provides with an inner square security it needed daily to protect and make it safe for customers, tourists, & employees. Commercial Center Historic Society maintains daily security for the benefit of the general areas.
Other Services provided through donations. Website hosting, & maintenance, online social media and advertising, outdoor signs and entrance planters, art garden maintenance & installations, information center and phone lines, maintaining relationships with various government agencies and reporting issues to Clark County through fix it ticket online
Helps to pay for Ongoing Care of the Historic Neighborhood
Through, Cleaning, Security, & Maintenance of the 40 Acre Area.
Weeding, Graffiti Removal, Art Garden and Mural Maintenance, & Events
We thank You for your contribution, this allows us to continue our work, we accept contributions for monthly, annual and for special projects, and to sponsor a cost.
We hope to be able to maintain & Share Commercial Center with Las Vegas for many years to come, Always.
Sincerely, Commercial Center Historic Society